Of course, living the student lifestyle can be difficult when it comes to eating and looking after yourself properly. Perhaps, when we are thinking about our meals we naturally assume that cooking from scratch is going to be more expensive, takes longer and maybe won't taste as good as takeaways. As part of my University Portfolio, I will be discussing and showing students how preparing and cooking meals at home is quicker, cheaper and if done correctly, a lot tastier
Let's get past the student stereotype of living off pasta and pot noodles. University can be a great time to be healthier than ever!
Throughout my time at University, I have been on a bit of a rollercoaster with my eating habits and cooking routine, but in my last year I have really pulled together a way round eating fresh and affordable foods that are delicious and take very little time to produce! In my first year of living as Student, I wanted to explore new meals that I could quickly rustle up after a busy day at University, and also learn how to batch cook so that I could save some in the freezer for other hectic days.
I always have bits and bobs in my cupboard such as Pasta, Tuna, Rice, Pasta Sauce and Chickpeas. I think it's important to have these staples in your cupboard so that you always have something that you can throw together if you're feeling tired and really have no other alternatives for a filling meal. However, as I gained more knowledge about cooking and tried out some new recipes, I most definitely realized that eating fresh foods leave me feeling satisfied, energized and so much better!
Unhealthy and healthy eating behaviours have been shown to gather together in an university student population. Moreover riskier patterns of eating behaviour were observed in students living in student accommodation. Universities have a duty of care to their students and therefore the finding that students who spend greater amounts of time on campus are engaging in riskier eating behaviours should be cause for concern for leaders of Universities.
COST
Microwave meals might seem cheap at first, but you don't get the goodness or the value for money you can get from buying and cooking large, bulk meals of freshly prepared food.
Of course, when you are tired and had a busy day at University or work, its' so easy to throw some fish fingers or a pizza in the oven or pick up the phone and order a Take away. But on average a take away costs between £10-£15 at least. I put my hands up and admit that once in a while I order the odd Uber Eats when I get in from work late, however I always keep them to a minimum to save myself some pennies and try to use what I already have in my cupboard and fridge to rustle up something just as delicious as a takeaway. One day a week, normally on a Sunday or a Monday, I always make time to sit and think about what meals I can make throughout the week, but also what meals I could batch cook and put in the freezer for other days. Personally, I think it is crucial for students to have a healthy and solid plan when it comes to food shopping, because from experience it can end in buying meal deals from corner shops or picking up the phone and ordering a Deliveroo. Look at it this way, if you decided to order a takeaway that ends up coming to £20, as some can- that one meal costs the same as a whole weeks-worth of food shopping! This is where I would love to help anyone struggling.
Here is an example of what I think is a good shopping list for any student, including foods that can be put in your cupboard but also fresh and affordable foods such as green veggies, fresh Rice Noodles and British Eggs that can be used in anything!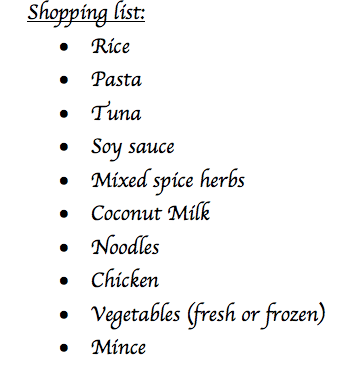 I launched some research into where people prefer to do their weekly shopping. I did an Instagram poll asking if people would prefer to do their shopping at Tesco/Sainsbury's or Aldi/Lidl and asked them to leave a comment as to why. Most of the people that took part and responded were aged between 20-25 and students.
Results:
52% – Aldi and Lidl 
48% – Tesco and Sainsbury's
Responses:
"I definitely prefer to do my weekly shopping at Aldi as you can't beat the prices, I can do a weekly shop just for myself, for around £20 and get all the essentials I need, leaving me with more disposable money for myself."
"Lidl all the way, fresh produce such as Fish and Chicken is a lot cheaper I have found, which has made a big difference for me"
"As a student I find shopping for food is a lot more affordable and reasonable at Aldi, sometimes the quality of the vegetables is questionable but all in all, I save a lot more money compared to when I buy little bits at Sainsbury's next to my Uni campus. It all adds up!"
From this research I found that a lot of student's are aware of the money they could be saving if they chose to shop at cheaper alternatives such as Aldi or Lidl. However, the other 48% are chasing to shop at Tesco or Sainsbury's that are slightly more expensive. I believe this research was useful as some students may not be aware that there are alternative places to shop that are slightly cheaper than upper market places like Tesco and Sainsbury's.
PREP TIME 
Put the pot noodle down and walk away from the microwave.
I know what you're all thinking…preparing and making fresh dishes from scratch takes a lot of time and effort. Of course, when you're a student the last thing you want to be doing is spending your precious time in the kitchen. But what if I told you that you could produce a fresh and healthy meal in just under 20 minutes, no catch! I would love to share with you a simple meal idea that I have grown to love and always rely on when I have a busy routine, but also want to stay healthy. All of these ideas include fresh meat that can be frozen, cupboard staples such as rice, noodles, coconut milk and spices.
This curry is an example of a dish that a lot of people may class as a luxury dish or expensive. However, most of the ingredients are items that I keep in the cupboard.
If you give this delightful Thai dish a try, please let me know how you get on!
Thai Green Curry with Rice- Ingredients cost £9 all together
Ingredients:
Curry paste
Coconut milk
Chicken
Peppers
Mushrooms
Green beans
Soy sauce
(Embed video here)
Method:
Chop up all of your Vegetables
Then, add one tablespoon of Oil to a hot pan
Add two tablespoons of Thai Green Paste to the pan
Add the diced chicken and give it a good stir, ensuring all the Chicken is covered
Next, add one can of Coconut Milk
Add a dash of Soy sauce
Finally, add all of your chopped veggies
Serve with boiled Rice.
There you have a delicious, healthy meal made in under 20 minutes!
TASTIER
I know this is all down to your own opinion, and of course everyone has different taste buds, however personally I find that home cooked/fresh meals taste a lot better than an average greasy takeaway cooked in oil and fat. With lots of help from different seasoning, your healthy home cooked meals will burst with flavor and make you never want to pick up the phone for a takeaway again!
As part of my own research, I did another social media post targeting Students asking them if they enjoy cooking from scratch whilst at away from home at University, and if so, why?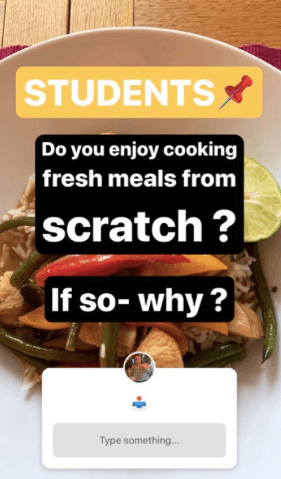 Indeed, it was extremely interesting to hear some feedback from students regarding why they enjoy cooking fresh meals at home. However, I was expecting a few more responses saying that they enjoy ordering take-aways.
Here was some of the responses:
"Yes, cheaper because you can make big batches & use left-over ingredients for other meals which is always great!"
"Of course, health is wealth and I always feel so much more productive after consuming a home cooked meal"
"Most definitely, makes me feel like I am looking after myself a lot more"
"Yes, if I have had a difficult day, cooking something from scratch makes me feel a lot better and clear headed"
"Yes, A- because you know exactly what you are eating and B- its chilled and therapeutic after a day at lectures and seminars"
From this research , you can clearly see peoples different responses and take the positives of home cooking. I found it really interesting hearing other student's opinions on what they prefer doing whilst they are away from home. I believe the PR and message we are delivering to students is extremely important. As University can be a stressful time for students, maintaining a healthy lifestyle can really help, and of course, if money can be saved that is a huge bonus!
Sources used:
"Eating Behaviors of British University Students: A Cluster Analysis on a Neglected Issue"
https://www.hindawi.com/journals/apm/2015/639239/
Instagram research
https://www.fenews.co.uk/press-releases/40107-why-nutrition-during-college-years-is-crucial
https://nutritionj.biomedcentral.com/articles/10.1186/s12937-018-0398-y